Maitre'D Point-of-Sale
A full service, feature-rich POS solution that works in all environments of all sizes such as fine and casual dining, table service, family restaurants, quick service, hotels and bars.
Maitre'D simplifes your core business up front and in the back-office
Maitre'D POS provides all the functionality restaurant owners need to handle every part of their business operation, regardless of their size. Integrated with PayFacto's payment processing solutions, you can handle credit and debit card payments quickly and securely. Whether you run a fine dining table service restaurant, a quick service restaurant, a bar or nightclub, a hotel or a full event venue, Maitre'D POS does it all.

Why choose Maitre'D POS
Everything you need
More than just a POS, Maitre'D includes back-office and reporting solutions.
Ongoing support
Hundreds of certified resellers provide set-up, installation and local support, all the time.
Proven and tested
With more than 20,000 customers worldwide, Maitre'D POS has been used for over 30 years.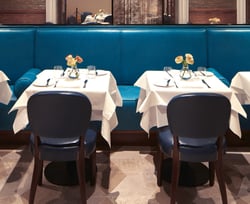 Testimonial
« Our staff is able to spend much less time inputting items because the system is much clearer with Maitre'D and so easy to use. »
Martina Streil
Corporate Head of Hospitality, Sotheby's
© Payfacto, 2023. All rights reserved.